****WORLDWIDE REGISTERED SHIPPING FREE OF CHARGE*****
♥Modern Jewelry Design: a selection of Modern Jewelry,Enamel Earrings, Modern rings,Stud Earrings, handcrafted in Sterling silver,Copper and Gemstones♥
Every single piece is handmade from scratch, by me, in my house in Greece:)
Let me introduce you a

SilverLinesJewelry
!
A handmade low dome band ring handcrafted from scratch using handcut Sterling silver, adorned by a mint green teardrop Chrysoprase cabochon set in fine silver bezel.

♦Measurements♦
Band : 1cm wide
Chrysoprase : 2.5cm
US Size : 8 on a mandrel but will fit snuggly as it is a wide band.

It was given a satin finish but can be oxidized upon request.




This pair of sterling silver dangle earrings was handmade from scratch using hand cut sterling silver pieces on which a gorgeous sparkly pair of Druzy cabochons was bezel set using fine silver bezel. They were adorned by a pair of brown faceted Freshwater pearls.
They fall from ornate Sterling silver stud earwires.

They were oxidized and then selectively hand polished.

♦Measurements♦

Total length : 5.6 cm from the top of the earwires
Setting : 2.5cm x 1.7cm

♦Materials♦
Fresh water pearls
teardrop Druzy cabochons
Sterling silver
Fine Silver
A bit more about shop owner
-
I am a loud, kind hearted Greek gal..kinda like "My Big Fat Greek Wedding"...ok..maybe not so much, but you get the picture :)
I am a daydreamer; I can not live without the sea and my loved ones..and I am totally addicted to chocolate and ice cream..
I started learning the piano at the age of 4 before even learning how to read and it still is one of my greatest passions..I also enjoy learning foreign languages and my latest obsession is Japanese..

I LOVE making jewelry..it makes me happy, it makes me smile..it makes me satisfied to create something wearable using a piece of metal and stones, or enamel.

I ve gone through different styles, from intricate wirewrapping to silversmithing. I evolve as a person and so does my work..
My work is not romantic, or just modern, or just elegant, or just feminine.Right now I m fascinated with silver and copper and enameling.Tomorrow, there might be sth else ..

I do try though,through my work to express my need for beauty, color,texture,harmony,balance..

Each piece is created with extra care and attention to detail.
And you can say so! Just look :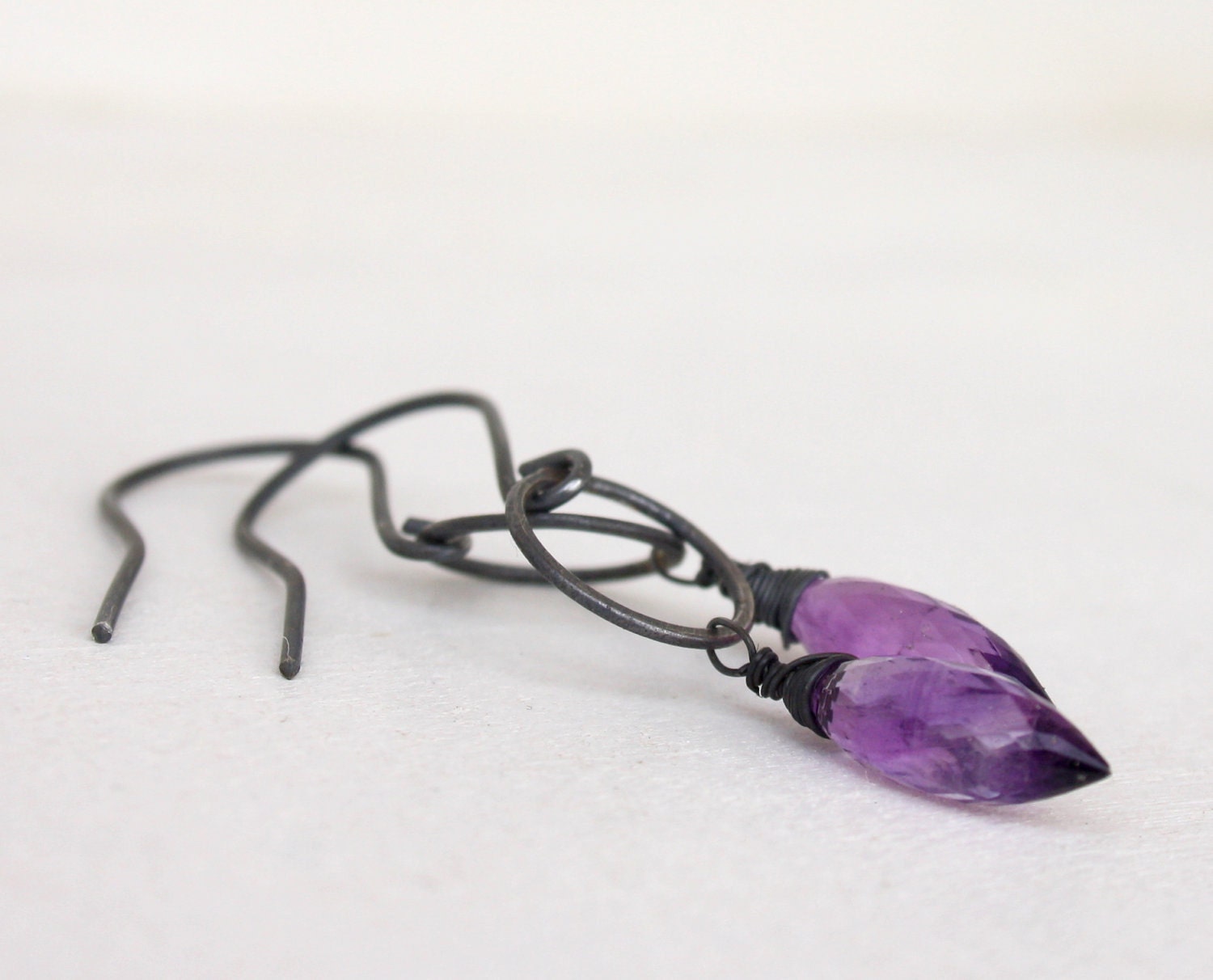 A pair of handmade sterling silver earrings with gorgeous faceted purple Amethyst briolettes wrapped in sterling silver wire and dangle from handforged sterling silver circles.
Heavily oxidized and slightly hand polished.
Perfect for every season any time of the day!
♥Measurements♥
Amethysts: 1.4cm
Overall length : 4.6cm/1.8 inches counting from the top of the handcrafted sterling earwires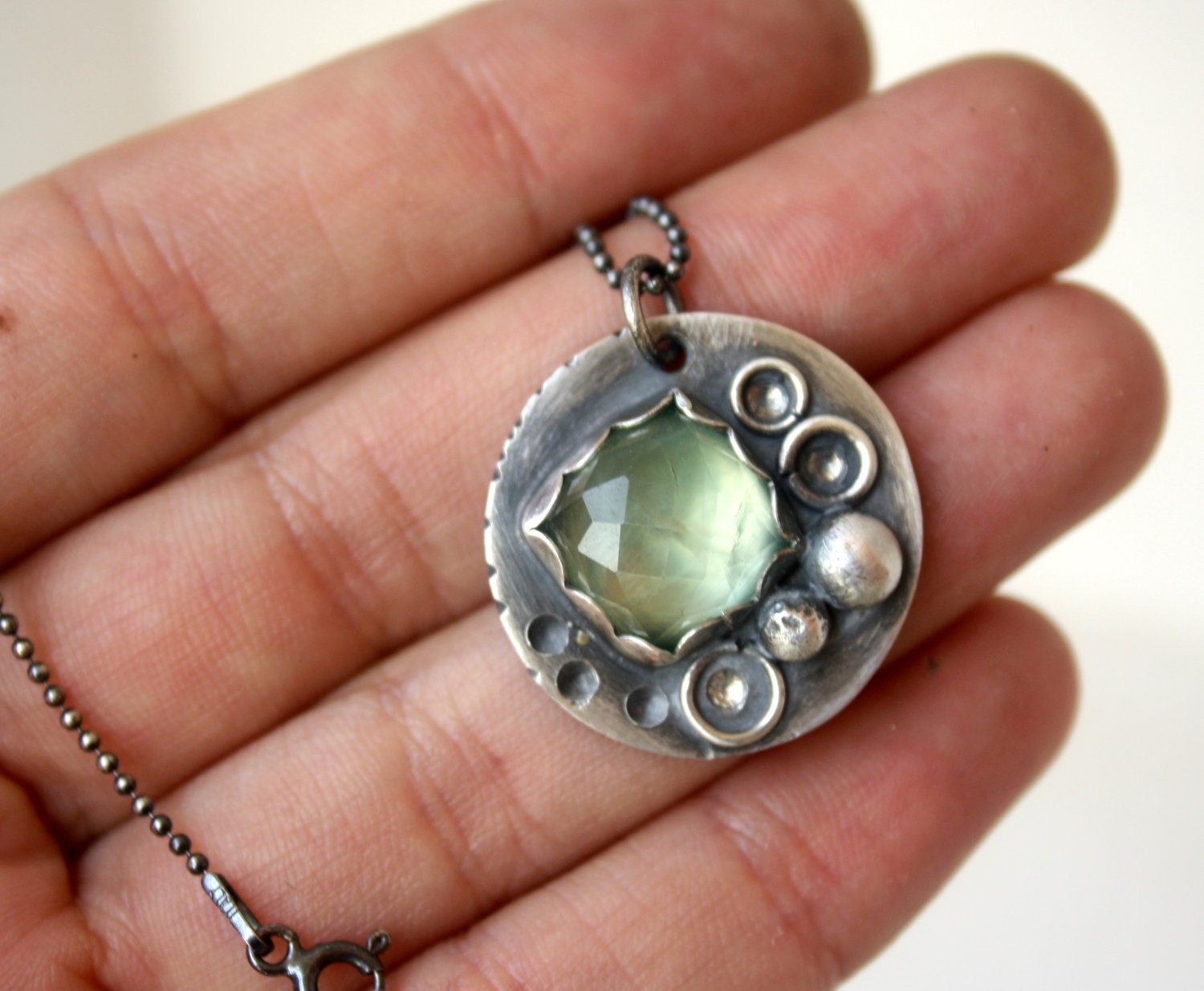 A beautiful sparkly faceted Prehnite cabochon was bezel set on a round handcut sterling silver round piece adorned by silver pebbles and jumprings.
The entire piece was oxidized, selectively hand polished and falls from a 16inc sterling silver ball chain.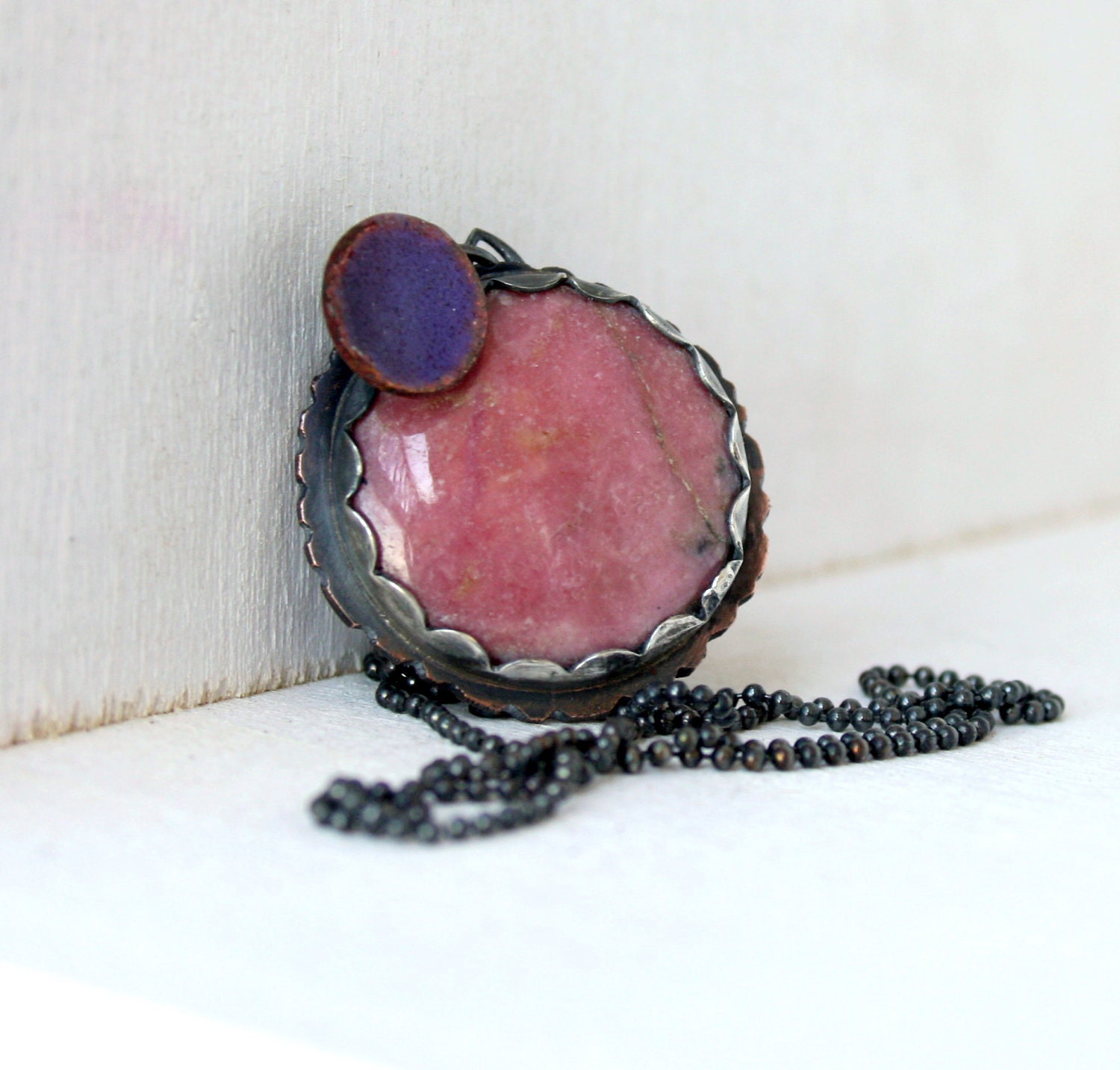 A modern pendant handmade with Copper featuring a lovely pink Round Rhodonite cabochon,paired with a handcut round purple copper enameled piece.
I sawed a freeform round piece out of thick copper sheet.I then soldered the bezel, sawed a round piece out of copper sheet and enameled it in purple color various times for strength.
I love experimenting and trying to combine different techniques..This is a new line in my shop:) An unexpected wedding between two different elements..enamel and gorgeous stones set on sterling silver or copper.
You can visit SilverLinesJewelry right now and purchase your favourite jewelry piece.
Or you can win $35 Gift certificate to SilverLinesJewelry plus free shipping!